Although Mid-Autumn Festival has just over, we can still have post-celebration by visiting the flower exhibition at Gardens by the Bay. I visited the Celebration of Chrysanthemums exhibition which is still on display till 10 November with my friend last Saturday.

The exhibition is happening in Flower Dome where you can see selected cultivars of chrysanthemums fresh bloom in various colors in the display. The whole exhibits feature over 10,000 chrysanthemums for visitors to stroll and see with photo-taking session. Family activities can be done here as it is an indoor activity and can avoid haze. Strolling along the display and taking a moment to enjoy the charming blooms would be ideal for a lazing weekend.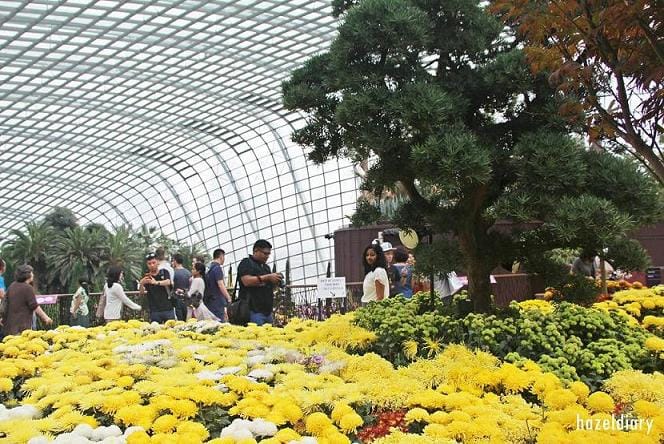 It is my first time seeing different types of chrysanthemums and I am pretty amazed with the vibrant colors of the flowers. Even the kids are excited with it.

Chrysanthemum is one of the symbolic flower in traditional Chinese art. The exhibition display the flower in varieties of plant forms such as large disbudded blooms, spray forms and many forms to lift up the whole atmosphere of floral display.

Here are some of the photos taken during the Saturday tour. Do check out the spider chrysanthemum which has the long, tube-like ray florets, pompon which is small, globular bloom and fully round when mature and disbud which has one central stem and produce one large flower with all petals curling upwards.

Good news!

Free Admission for Senior Citizens. In celebration of SG50, local seniors (aged 60 and above) can enjoy free entry into two conservatories. Accompany caregivers of seniors can also enjoy 50% discount into two conservatories.

Promotion is valid from 1 June to 31 December 2015.
Other than the spectacular chrysanthemums, you can also explore outdoor lantern displays. There are outdoor activities during this season such as Cultural Performances, Food Street, Lantern Displays and Fireworks at Supertree Grove which is over on 3 October 2015.
For more information, check out the official website http://www.gardensbythebay.com.sg/en/home.html
[Thanks Gwen for the arrangement & Gardens by the Bay for the invite]
Follow me on Facebook and Instagram for insta updates!