It has been a while since I had my buffet session. I was invited to Penang St. Buffet located at Causeway Point last week to check out their Halal Buffet with different flavours of crabs and local dishes. Since it is nearer to Woodlands, I decided to invite my friend who is staying around that area to join me for the session. Oh my! Causeway Point is indeed crowded with people on Friday night.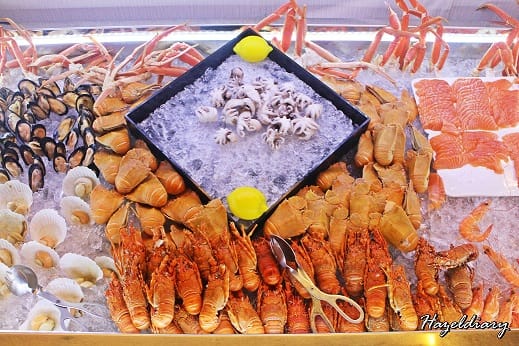 Penang St. Buffet just launched ALL YOU CAN EAT CRAB Buffet which is HALAL from 15 July til 2 October 2016. Speaking of Halal, it is quite hard to find Halal buffet nowadays and Penang St catered to this mass market. The crab buffet was indeed a feast for crab lovers as they serve many crab flavours and of course other Penang local delights as well. The crabs are imported from Sri Lanka and Indonesia if you are wondering.
So, what are the crab's varieties can you expect from the buffet?
Salted Egg Crab

This is one of the basic must-have dishes across all places. The difference is that this is halal and not the grainy type. The salted egg taste was not strong in flavour. Nevertheless, it is still worth having it.
Stuffed Chicken in Crab

Quite an interesting dish I would say. The chef stuffed the minced chicken meat into the crab shell and we were quite amazed with the combination.
Butter Crab
The butter crab version here has a mix of chilli padi in it. Thus, there is a tint of spiciness when you taste it.
Golden Sand Crab

As for this, it has the buttery, creamy milky type of crab sauce which is best to have it with mantou.




Black Pepper Crab

One of the signature dish for the locals and Penang St had it in the list too. The crabs were steamed before cooking it with the black pepper sauce. Not too fiery spicy and it tasted pretty good.
Chilli Crab
Penang-styled chilli crab that has a mixture of sweet and savoury taste in it.
Typhoon Crab
Typhoon crab is a HK style crabs that has quite a number of ingredients in it. It includes corn, carrots, potato, black soya bean, chilli padi, onion and garlic.
Crab Bee Hoon Soup / Penang Crab Noodles Soup

There is also a live station where the aunty will prepare the soupy dishes upon request. So, Penang St also factor in the crab into the soupy noodles to match the theme. So, you can expect to have crab instead of the usual prawns.

Oh that's not all! There are Penang Fried Kway Teow with crabmeat, kalian with crabmeat, satay, pizzas, rojak, desserts and grilled items as part of the buffet. Eat till you full!
And of course we ended with Durian Chendol from Penang St!

Crab Madness 2016
Period: 15 July – 02 October 2016
Pricing:
Monday – Thursday : S$59.90++ (Adult) | S$19.90++ (Child)
Friday – Sunday, Public Holiday & Eve of Public Holiday : S$63.90++ (Adult) | S$20.90++ (Child)
Dinner Session:
Session 1: 4:45PM – 7:00PM
Session 2: 7:30PM – 10:00PM
(10% discount applicable for all Session 1 reservations)
Penang St. Buffet
Address: Causeway Point #05-12/13
1 Woodlands Square
Singapore 738099
Tel:+65 6894 7872
Email: reservations@gdgroup.com.sg
Website:http://www.gdgroup.com.sg/penang-st-buffet/