Happiness Seafood by Uncle Leong Signatures is the sister restaurant of Uncle Leong Signatures. The local Singapore family-oriented restaurant offers seafood options and other zi-char dishes. And of course the signature crabs such as claypot crab beehoon, black pepper crab, chilli crab, mala crab and more. The menu here is 90% similar to Uncle Leong Signatures but they do have their selected signature dishes here like Mala Crab or Oreo Butter Crab.
I made a reservation via Chope and purchased the 40% off Chopedeals Voucher via shopback for this meal. Okay.. you can thank me for this! So basically I paid S$90.00 for S$150.00 worth of chopedeal vouchers. My total bill was S$151.70.

Here are the dishes we tried:
Mala Crab – Seasonal Price


Mala is the next 'hot thing' and Happiness Seafood has come up with Mala Crab dish. I cannot handle mala but surprisingly this is mild flavour and not much of numbness in it. The mala sauce well-coated over the crab but it did not seep into the flesh of the crab. So, it is best to dip into the sauce or gravy for the adventurous taste. And of course the crab was fresh, juicy and tender.
Fried Sole Fish Skin – S$10.80 (S) | S$15.80(L)


This is recommended by one of the staff and I think it is just crispy fish skin dish to pair with beer or starter before the mains.
Stir-Fried French Beans with Dried Shrimp S$9.80(S) | S$11.80 (M) | S$14.80(L)

This is also available at Uncle Leong Signatures restaurant.




Treasure Box Beancurd S$12.80(S) | S$22.80(L)

Beautifully plated treasure box beancured with diced prawns and scallops encased on top of the soft egg tofu. It is drizzled with tangy sauce and perfect to go with a bowl of white rice.
Signature Hor Fun S$8.00(S) | S$12.00(M) | S$16.00(L)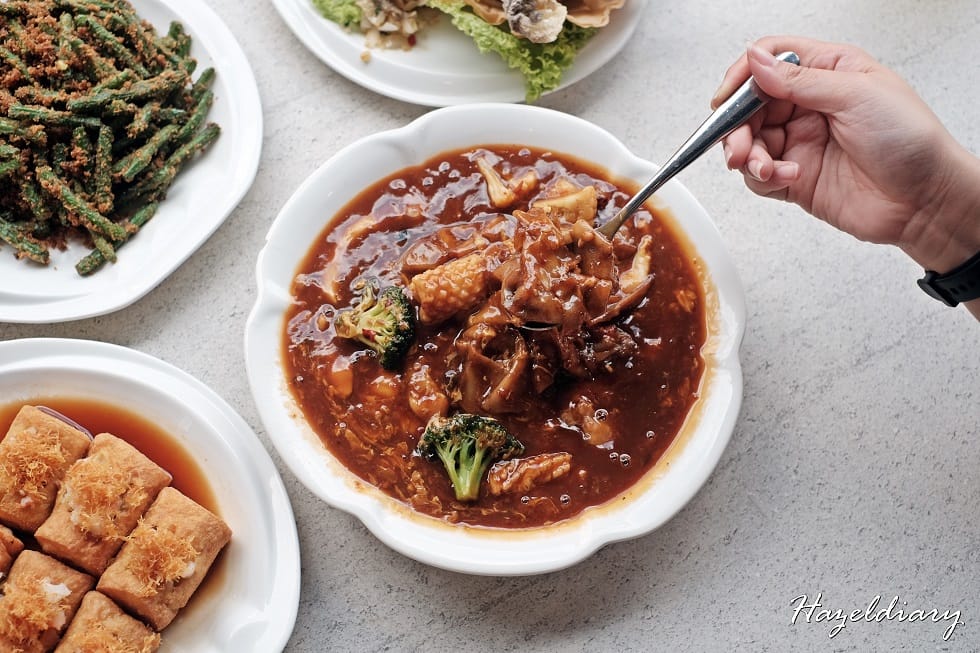 Their signature hor fun has the wok hei taste and coupled with the robust gravy makes the dish tasted flavourful. The hor fun noodles were smooth and the spiciness level is just right for me.


You can check their full menu from their official website to calculate your budget. So no worries! Their crab truly lives up to the standard especially the freshness. Apart from the food, the serving time is pretty fast. Our dishes were served within 10-20minutes upon ordering. I would recommend to come in big group so that you can order variety dishes here.
Saving Tips: You can save up to 45% when you pre-purchase the voucher here.

Happiness Seafood by Uncle Leong Signatures
Address: 27 Lor 13 Geylang,
Singapore 388670
Opening Hours: Daily 12:00PM – 12:00AM
Website: http://happinessseafood.sg/
Facebook: https://www.facebook.com/HappinessSeafood.SG