Sand and Sandals Desaru Resort & Spa is the newly revamp resort that opened early this year. It is formerly known as Pulai Desaru Beach Resort & Spa. Sand and Sandals Resort & Spa is also the first resort by Techvance Hotel & Resort Group. I visited the resort over the weekend and had an enjoyable time.

How to Get There?
There are few ways to get to Desaru from Singapore. You can read the full post here.




Accommodation/ Resort Room
Sand & Sandals offers 208 fully-renovated rooms and suites. Their rooms and suites are incorporate with balconies, bathtub, and private garden and private pool depending on category. There are also dedicated floor for exclusive access to the Club Lounge.
I stayed in Deluxe Room with Private Garden, which is priced from RM700++(~S$225.81) onwards. The room rates are generally priced from RM400++ (~S$129.00) onwards. My room comes with outdoor bathtub at the private balcony and a mini garden with a swing. The room also includes the essential amenities and separate shower room and toilet.
Apart from that, the room is very spacious and I can easily access to the pool without detouring from the hotel lobby by the private garden gate.
Here are photos taken in the room: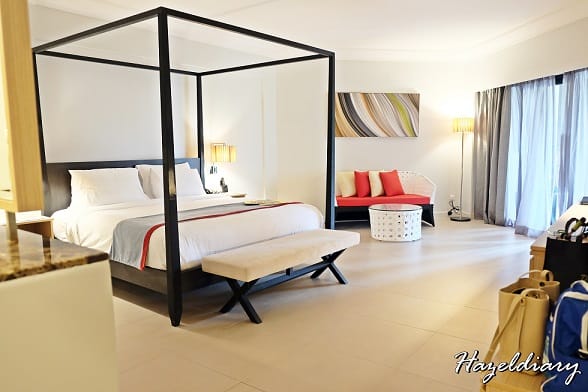 Sand & Sandals also have Family Suites and Couple Suites to cater for families and couples alike. Click here for more room photos.




Restaurants & Bars
There are total 5 restaurants and 1 café in Sand & Sandals. The restaurants are all pork-free. The restaurants include Fortune Kitchen – offers all day fusion-inspired dimsum, Shiokaze Teppan– Japanese restaurant that serves teppanyaki dishes and Spices & Herbs which is a combination of Western and Asian cuisines. Spices & Herbs is also the breakfast venue for resort guests.
Apart from the restaurants, guests can shill out in the afternoon at The Café for a slice of cake and coffee. The price starts from RM10.00 (~S$3.20) onwards.


The outdoor dining options are available as well. Beach Hut Bistro and Sunken Bar are located at poolside next to Jacuzzi. Guests can order the food while enjoying a swim by the bar side.


If you are into Thai cuisine, take a short walk to Snuk Thai Street BBQ. The Thai restaurant is literally next to the resort that serves authentic Thai food and fresh seafood on BBQ.






Resort Facilities
Spa

For couples retreat, check out Senses Spa by Sand & Sandals.I got the opportunity to try out couple spa treatment. There are 4 luxury outdoor spa pavilions that are specially design for couples and 2 stellar comfort treatment rooms. It was my first time trying out outdoor spa. I enjoyed every bit of nature and so relaxing. Once I am done with the scrub, I get to soak into milk bath in the love-shape bathtub for 15 minutes. There are different types of spa packages and you can check with the staff.
Gym

The gym located at the middle of the pool has a beautiful sea view. The gym room is equipped with basic gym equipments so do not expect more than that.
Swimming Pool

And of course the swimming pool for guests.
Game Centre

Kids and adults can spend some time at the arcade game centre available next to The Café.
Kids Playroom

There is also kids' playroom which is next to the receptionist where parents can let the kids have some fun.
Meetings & Events
There is also a ballroom and meeting facilities where companies can arrange team building in the resorts.
Beach & Recreational Activities

If you are adventurous person, check out their beach activities. The beach activities by Sand & Sandals include banana boats, jetski and ATV riding. I didn't get the chance to try the beach activities because the waves are very strong over the weekend. We were told that the best time to enjoy beach activities are the month of June.
Catch the Sunrise
Guests will be enchanted by sunrise to moonrise nature at Sand & Sandals Desaru resort just like what I did. We woke up 15minutes before the sunrise and camp at the beach to watch the sunrise. It was amazing as we sat down to record the timelapse and listen to the sea waves.
Sit Back & Relax
Or just book the resort room and do nothing over the weekend. Just sit back and relax in the spacious room and enjoy bubble bathtub at the private balcony. There is 24-hours room service so basically you can just stay in the room and spend your private moment together.
If you need a short break and yet affordable short gateway, you can check out this resort. If you are driving to Desaru, you can explore places like Ostrich farm or drive to Sungai Rengit for seafood. There are other nice places to explore in Desaru area. Alternatively, just enjoy your resort stay here in Desaru.
Read about my Johor posts here.
You can book a private city transfer from Singapore to Johor Bahru using Klook. This is best solution if you are travelling with family or big groups.

Address: 2263, Jalan Desaru,
81930 Bandar Penawar,
Johor, Malaysia
Website: http://www.sandandsandals.com/
Facebook: https://www.facebook.com/sandandsandals/
Instagram: https://www.instagram.com/sandnsandals/
[Thanks Sand & Sandals Desaru Beach Resort & Spa for marvellous stay over the weekend.]