Bubble Gum Wax first started their operation in year 2011. Their first outlet in Kuala Lumpur and slowly venture across the Kuala Lumpur district and finally opened an outlet in Johor Bahru earlier this year. The outlet is located at Taman Pelangi, which is just opposite Coffee Signature Café.
How To Get There
Take a cab or GRAB over from JB City Square. It is just approximately 15mins drive away and the GRAB Fare is RM5.00.
What Do Bubble Gum Wax Offers?
They offer IPL and Wax services to woman and men. IPL is a semi-permanent hair reduction solution to your hairy woes. It is completely different from waxing as the process aims to weaken the root of your hair, slowing the growth process.
Waxing is a form of hair removal from the root itself via wax. Wax is recommended to be done at 5-6 weeks intervals depending on your hair and skin type.
What are the differences between IPL and Waxing?
IPL Hair Removal

IPL is called Intense Pulsed Light. It uses light based technology that delivers long-term result. It uses light with different wavelength to treat on the area. The therapist/ beautician will apply a cooling gel on the specific area before starting the treatment. There is minimal discomfort during the treatment process as it can be adjusted to the settings according to individual. Thus, this explains the price is higher as compared to waxing.
Waxing Hair Removal

While IPL uses advanced machines/equipments to get rid of the hair, waxing uses the pulling off principle. The wax is stick enough to grab the hair off from the root of hair follicle. It cannot deliver permanent hair reduction result like IPL. However, it can deliver a temporary hair removal result. It can be done with proper wax strips paper, wax warmer, wooden sticks and etc. Although it cannot be removed permanently, the hair would grow thinner and thinner if your same wax area done repeatedly.
Bubble Gum Wax also offer promotions for first timers.


The best part is that their prices are available online for reference.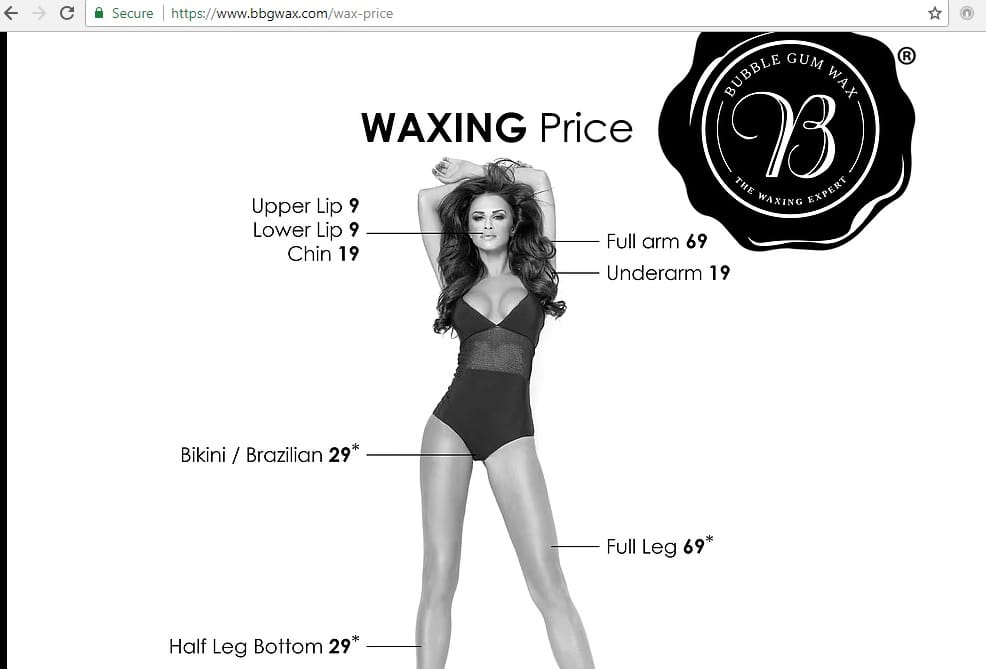 Here are the photos taken during my first visit for my underarm IPL services a month ago.
I will blog in details on my next post.
For more information about Bubble Gum Wax you can check out
Facebook: https://www.facebook.com/bbgwax
Website:http://www.bbgwax.com

Address: 112, Jalan Serampang,
Taman Pelangi
80400 Johor Bahru
Closed on Mondays