Mount Fansipan is known as the highest mountain in Indochina or referred as the "Roof of Indochina'. It is the highest peak located in Sapa, a town in the Lao Cai province in Northern Vietnam. Travellers/ Trekkers used to take at least 2 to 4 days to conquer the summit (including ascend and descend) but with the cable car services operating since February 2016, anyone can visit the peak easily. If climbing/ trekking is too challenging, you can follow this guide to reach to the peak of Mt. Fansipan.How To Get To Mt Fansipan
You can climb/ trek up to the peak but we opt for cable car services. We took the scenic cable car ride up 3,143 meters above sea level to the peak of Fansipan Mountain.You can pre-purchase the tickets here or purchase it on the spot at Sapa Station.
Here are the cable car pricing details:
Once you got the cable car tickets, scan your tickets at the gate for the monorail to go up half way to take the 20-30 minutes cable car ride.

The cable car ride will bring you to Muong Hoa Station.

You can take another monorail ride to the Fansipan mountain peak (3,143meter above sea level) with additional fee.

Alternatively, you can take the 600+ steps up to the mountain peak. You can see two temples along the journey up to the mountain peak. You will see the impressive 20-meter celestial Buddha statue, which is the largest in the country.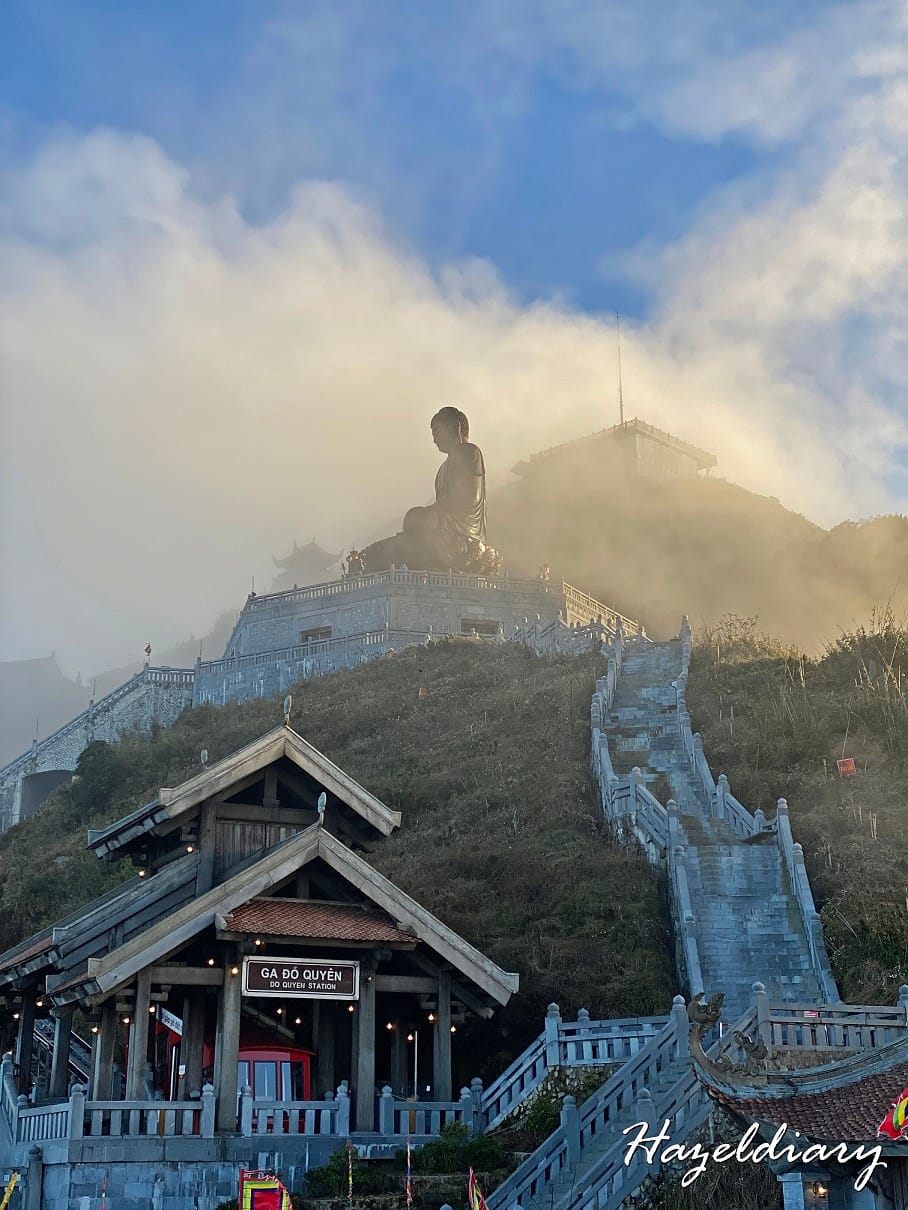 We finally reached the top and there are red Vietnamese flags there. Tourists can use it as props to take photos. The view was magnificent and the wind was strong that day. It was hazy too and we took quite sometime to get a clear shot.

I did a minute summary video of Mt. Fansipan and you can check it out here.

We took the same route back to Sapa Station and this pretty much summarize a day trip up.
Read here on how to get to Sapa from Hanoi, Vietnam.
Sapa Station (Cable Car)
Address: Sapa Town, Lao Cai Province
Opening Hours: Daily 7:30AM – 5:30PM
Muong Hoa Station (Monorail)
M-Gallery Hotel,
01 Fansipan St.,
Sapa Town, Lao Cai Province
Opening Hours: Daily 7:30AM-5:30PM

Fansipan
Address: Phan Xi Păng
Tam Đường District
Lai Chau, Vietnam