Nasi Babi Guling or we called it Suckling Pig is a must-try traditional dish in Bali. A trip to Bali is not complete without trying this dish. Babi Guling Pak Malen is one of the popular babi guling eatery in Seminyak, Bali. The eatery is 15-20 minutes away from airport so we decided to stop by for quick one before we back to Singapore.
Babi Guling Pak Malen is also available on GrabFood Indonesia if you would like to call for food delivery service during your stay in Bali.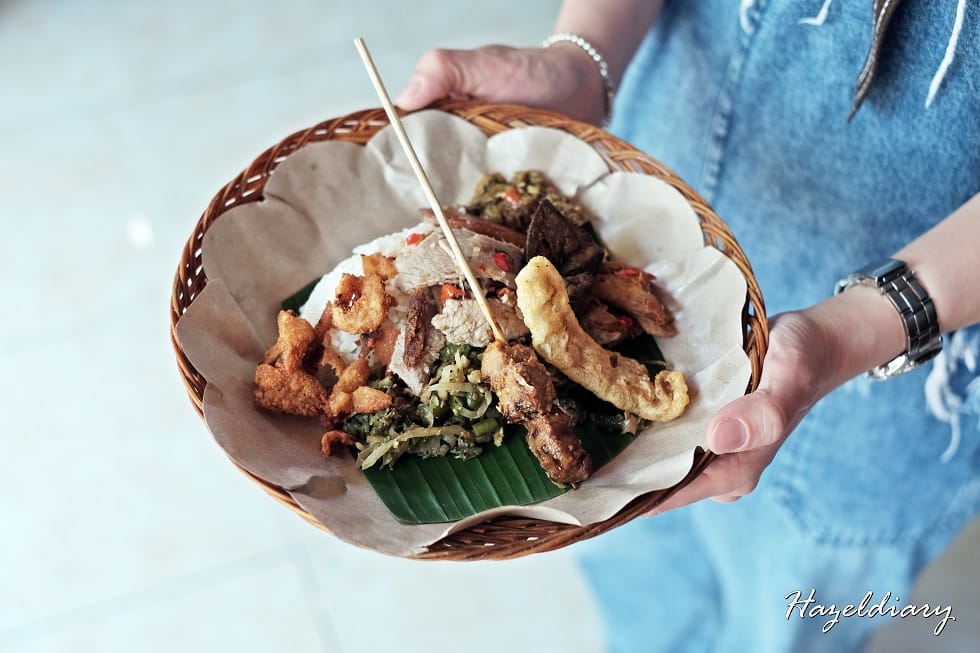 We ordered Nasi Babi Guling 40,000IDR ~ S$3.93 set that comes with the tasty bowl of soup. The signature dish comes with pork satay, lean sliced pork, a nice piece of crisp crackling, spiced deep fried pork skin, lawar (vegetables cooked in herbs, spices and coconut milk) and sambal. Although it looks like cai png (Chinese Version), this plate of pork dish is quite spicy when you mixed the sambal to eat together. Neverthless, I enjoyed every spoonful of flavourful ingredients in it. The Balinese-style crisp crackling pork skin has totally no gamey taste.




Once we are done, we make our way to the cashier counter to make payment. And please take note that there is a parking fee of 5000IDR ~S$0.50 applicable when u park right in front of their storefront.
Read about Mount Batur hiking experience post here.

Warung Babi Guling Pak Malen
Address: Jl. Sunset Road No.554,
Seminyak, Kuta, Kabupaten Badung,
Bali 80361, Indonesia
Opening Hours: Daily 8.30AM-7:00PM
Tel: +62 851-0045-2968