King of Fried Rice located at Golden Mile Tower is well-known for its Din Tai Fung style fried rice that comes in cheaper price tag. I keep seeing people raving about this place and finally decided to give it a try after work on one of the weekday. It was already 8pm when I arrived but the place is full house. It stated that the closing time is 8.30pm but somehow people just keep coming. We ordered and paid at the counter and got our number in queue.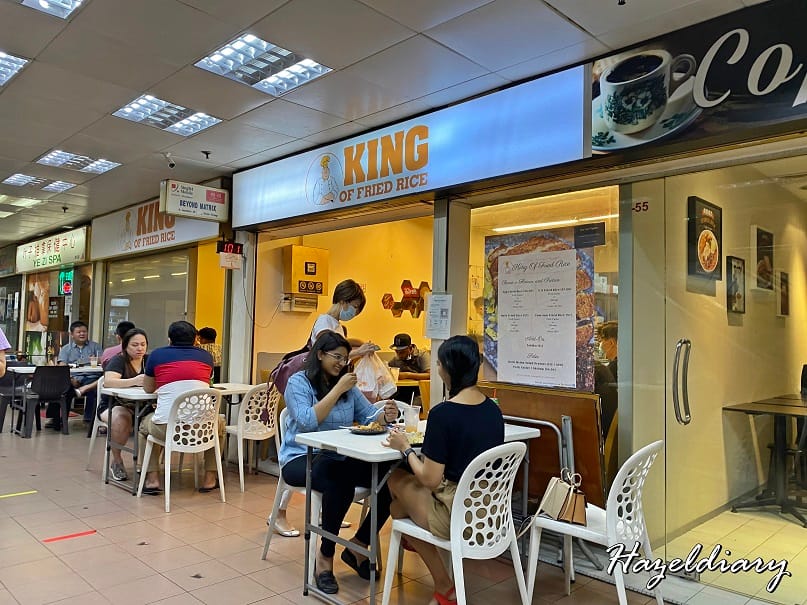 So King of Fried Rice focuses on fried rice and their menu is very simple and precise. They are four different flavours include original egg, XO, mala and tom yum. There are options to add on extra ingredients with additional S$1.00 per item (tobiko, sunny side up or shimeji).
It's my first visit here and I ordered their XO Fried Rice with Pork Cutlet S$7.80 . I enjoyed every spoonful of this wok-hei plate of fried rice. No wonder everyone is raving about it and even prepared to queue for this. The golden brown colour rice coated with egg tasted flavourful and satisfying. The pork cutlet is well marinated, tender and juicy. Unlike other pork cutlets, this is pretty good in terms of texture, taste and presentation. I finished this plate of goodness within minutes.
My friend ordered Mala Fried Rice with Shrimps S$7.00 and add-on Tobiko S$1.00. The mala fried rice was surprisingly delicious. I don't take mala but this is exception. Although there is a strong Sichuan pepper taste in it, the numbness level is still acceptable for my level (My level is quite low for a non-spicy person). Have a good mix with the tobiko for the red-orange colour and crunchy texture to it.




He also ordered side dish- Rock Melon Salad Prawns S$12.00. Fresh prawns coated with salad sauce and tobiko with the sweetness taste from the rock melon. I feel like having one of those appetizer dishes during wedding dinner.
The serving number does not come in sequence. Thus, wait patiently for your food to be ready.
For our case, my XO Fried Rice came first and Mala Fried Rice is only ready after 15minutes. They only fry in small batches at a time to ensure the quality consistency.
So, please be patient if you want to have a good plate of fried rice. We were tempted by the opposite mookata smell while waiting for the food though. There are uncles drinking at the corner of the same floor. So be mentally prepared with the "Yum Seng" and noisy environment. It is all self-service and cash payment here.

King of Fried Rice
Address: 6001 Beach Road #B1-56
Golden Mile Tower
Singapore 199589
Tel: +65 9159 4902
Opening Hours: Daily 11:30AM – 8:30PM
Their second outlet address:
10 Sengkang Square, Kopitiam Square, #01-48, Singapore 544829
Opening hours: 11:30AM – 10PM
Telephone: 8266 1638
Facebook:https://www.facebook.com/koffriedrice/
If you think my website content is informative, do support my website by buying me a cup of coffee/ tea or bubble tea or contribute fund to my space.
Your donation is a huge encouragement for me to do better and to continue sharing my love with all of you here.
Thanks!
Follow me on Facebook , Instagram and tiktok for insta updates