Other Attraction Places in Hua Hin to explore:
Wat Huay Mongkol- The Giant Luang Por Thuad Statue
Hua Hin Hills Vineyard
Cicada Market
Plearnwan Hua Hin (Eco Vintage Market)
Palace of Love & Hope (Maruekhathaiyawan Palace)




So before the Hua Hin Hills Vineyard, we started off the morning trip at Hua Hin Railway Station since it is near to our hotel. Hua Hin Railway Station is one of their famous sightseeing attractions with a long cultural heritage and Royal connections. It is built in the reign of King Rama VI and is one of Thailand's oldest railway stations.


The railway station has a unique architecture that was perfect for photography session. We stopped by for half an hour for some photography session. You can see many tourists at the place as well.


The railway station is approximately 5-10minutes drive away from the town. And most importantly it's FREE entrance.

 After we are done with photography session, we headed to next stop which is also FREE entrance with nice view. It's the Khao Hin Lek Fai which is known as "Flinstone Hill'. The hill is located approximately 3kilometres west of the town. It has the best view point in Hua Hin. You can enjoy a panoramic view of Hua Hin here! This reminds me of Sai Wan Swimming Shed in Hong Kong. Same same but different.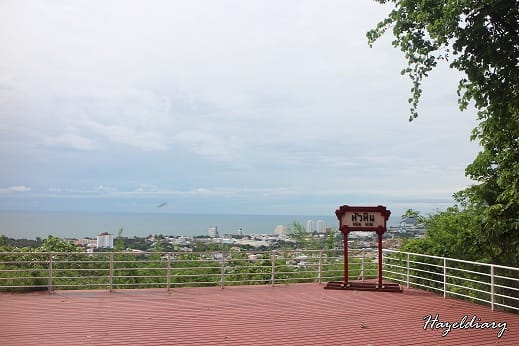 If you are wondering how we get there, we have a driver who drive us the whole day to the places we want to go. The road to the top hill is very steep so it's advisable to get experience vehicle transport to get you there.
Amazing view from the top!

 I would recommend visiting here in the morning to capture the beautiful moment! And of course beware of the monkeys around you!

HOW TO GET TRANSPORTATION FROM BANGKOK TO HUA HIN?
Apart from private drivers, you can opt from these platforms to compare the prices for private transportation in group.
1. Trazy.com offers 1 day private taxi tour from Bangkok
2. KLOOK also offers private transportation from Bangkok to Hua Hin
3. KKDAY that offers transportation from Don Mueang International Airport (DMK) or Suvarnabhumi Airport (BKK) Private One-Way Transfer to Hua Hin.