During my recent trip to Bangkok, I stayed a night at DoubleTree by Hilton Sukhumvit Bangkok before moving to Hilton Sukhumvit the following day. DoubleTree by Hilton Sukhumvit Bangkok is a 5-star hotel located in the heart of Sukhumvit's business, leisure and entertainment districts. The contemporary hotel is also close to The Emporium leisure complex and EmQuartier Mall which is currently one of the recommended places to go by tourists.
As usual, we went to check-in at the front desk and greeted with signature DoubleTree warm chocolate chip cookie.


Upon checking-in, the staff requested for a deposit of 2000 THB for the hotel stay. Thus, do take note to prepare the deposit money when you check-in to DoubleTree by Hilton Sukhumvit Bangkok.




Here are snippets of the Twin Deluxe Room: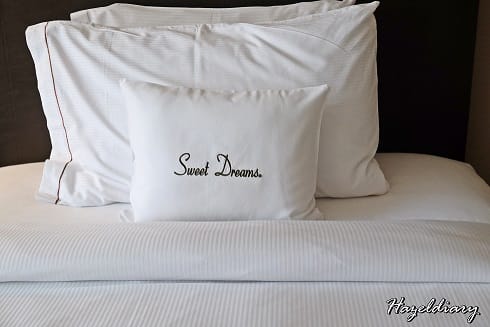 My favourite part is the Sweet Dreams signature bed package including the twin beds and four jumbo down pillows. The pillows are so soft and comfy that I slept well throughout the night.

The bathroom is designed with spacious rain shower area and it is an open-concept sliding door.

And the amazing views from the hotel room.

Apart from the hotel room, there is a swimming pool and gym facilities where hotel guests can enjoy at Level 7. There is also Mosaic Bar at the same level where they feature live DJ in the evenings. The best part is that the fitness center is open 24 hours daily where you have no excuse not to workout due to time constraints.

Next is Dee Lite which is located next to the hotel lobby. The restaurant offers daily seafood and grill buffet with a themed dinner every Friday and Sunday brunch. This is also the place to have breakfast buffet as well.
We settled our dinner and breakfast here before exploring other parts of city.


In Dee Lite, diners can see chefs on action because it is an open-concept kitchen. There are grill, noodles and sashimi stations where the chef will prepare on the spot upon request. Thus, you can expect the food served hot. This is a plus point for dining in Dee Lite.
It was a one night stay here in DoubleTree by Hilton Sukhumvit Bangkok but a pleasant short stay. I slept very well throughout the night and couldn't bear to wake up from the comfortable bed.The hotel rooms are well-designed with comfortable beds and space. And of course the "Make It Right" policy applies here as well.
Lastly, the hotel location is strategically located at the prime area of the city.The best part is that it is only few minutes walk away from Phrom Phong Skytrain station.

DoubleTree by Hilton Hotel Sukhumvit Bangkok
Address: 18/1 Sukhumvit Soi 26 Khlong Ton
Bangkok 10110,
Thailand.
Tel: +66 26496666
Fax: +66 26496699
Website: http://doubletree3.hilton.com/en/hotels/thailand/doubletree-by-hilton-hotel-sukhumvit-bangkok-BKKSSDI/index.html
Hope over to Hilton Sukhumvit Bangkok post for my 2 nights stay experience with them.
Read more about my Thailand travelogue posts here.