We decided to spend a day at Gyeongbokgung Palace and Bukchon Hanok Village because both locations are within a walking distance. Gyeongbokgung Palace is one of the must-visit attraction places for tourist because of its long history. Gyeongbokgung was the main royal palace of the Joseon dynasty. Gyeongbokgung (경복궁), which means "palace greatly blessed by Heaven," was built in the heart of Seoul surrounded by Mount Bugaksan and Mount Namsan.
Gyeongbokgung Palace
Address: 161, Sajik-ro Jongno-gu
Seoul, South Korea
Tel: +82-2-3700-3900
Website: www.royalpalace.go.kr

HOW TO GET THERE
By subway: Take the exit 5 of Gyeongbokgung Station or Exit 3 of Anguk Station (Seoul Subway Line 3)

Gyeongbokgung Palace is huge with layouts including the outer court, inner court, pavilions and other areas. There are two museums, which are National Palace Museum of Korea and National Folk Museum. This is my second time visiting this place and I only heard about the museum for the first time.

If you are a first-time traveller to Gyeongbokgung Palace, I would suggest you to go early to watch the Royal Guard Changing Ceremony at 10:00am or 2:00pm. The whole ceremony took about 20 minutes time right and it is FREE.


You can opt to pay the entrance ticket to explore the palace with 3,000 kr won. To be honest, I think you can just take a shot from the entrance unless you are in hanbok rental and wish to take mini photo shoot around the palace and museum.




Tosokchon Samgyetang
Address: 5, Jahamun-ro 5-gil, Jongno-gu, Seoul
서울특별시 종로구 자하문로5길 5 (체부동)
Website: http://tosokchon.com/ http://english.visitkorea.or.kr/enu/FOD/FO_EN_6_4_4.jsp?cid=582457

HOW TO GET THERE
10 mins walk from Gyeongbokgung Metro Station.
Tel: +82 27377444
Opening Hours: 10:00AM – 10:00PM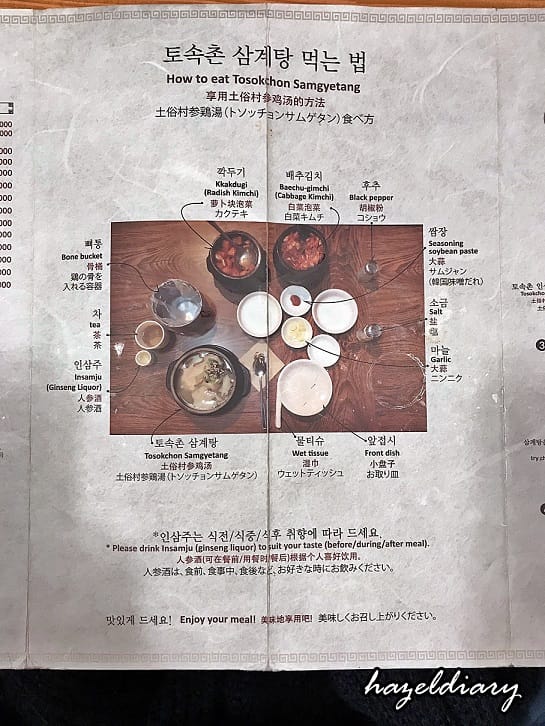 We also had the famous Samgyetang during our trip around the area. Samgyetang is an authentic South Korea ginseng chicken soup which is well-known among all travellers. There is a choice of black and white chicken. If you are travelling with friends or family, I would suggest ordering both to try. The broth was thick and flavourful and the chicken is stuffed with glutinous rice, ginseng and other herbs. The chicken meat was tender and moist in texture. It was my second time here and I still love it!




Bukchon Hanok Village
Address: 37, Gyedong-gil, Jongno-gu, Seoul, South Korea
서울특별시 종로구 계동길 37 (계동)
Tel: +82 2 3707 8388
Operating Hours: 24 Hours All Day
Admission: FREE
Website: http://english.visitkorea.or.kr/enu/ATR/SI_EN_3_1_1_1.jsp?cid=561382

HOW TO GET THERE
Exit 2 of Anguk Subway Station (Seoul Subway Line No. 3) and walk straight for about 5 minutes and you will reach Buckchon Hanok Village.


We followed our google map and slowly make our way to Bukchon Hanok Village. It is a place where tourists will dress up in hanbok to have mini photo shoot too! "Bukchon" refers to 'northern village" came about as the neighborhood lies north of two significant Seoul landmarks, Cheonggyecheon Stream and Jongno. The place is currently occupied with cultural centers, guesthouses, restaurants, tea houses and also residential houses.Thus, you will see signages to remind tourists to keep their volume down to avoid disturbance.
If you want to take nice photos with hanbok experience, you can rent a day nearby Bukchon area through Klook or Trazy or KKDAY .
Cha-Teul Tea House (차마시는뜰)
Address: 차마시는뜰 Cha-teul
35-169 Samcheong-dong, Jongno-gu, Seoul, South Korea



As we walk around the area, we came across this Cha-Teul Tea House (차마시는뜰). This is a traditional Korean tea house with an interior courtyard garden. It is best to drop by for a cup of tea and some Korean snacks after a walk around the village. There are quite a number of soothing tea flavours to choose from.


And their signature freshly steamed pumpkin rice cake (시루떡 hobaktteok ) is recommended by the local. This will take approximately 20 minutes serving time. It is best to enjoy it while it's steaming hot.
The best part of the tea house is that it provides complimentary WIFI services.
By the time we finished our tea, the sky has turned dark. We slowly walked our way back to Anguk Station and off for our dinner.
You can read about my day trip to Gangchon Rail Park, Nami Island and Garden of Morning Calm here or my Korea Travelogue post here.