Yilan is a country in Taiwan located near to Taipei. It has a unique geography of overlooking the sea on one side and being surrounded by mountains on three other sides. The country is also known for its scenic spots cold and hot springs and nature trails.If you are travelling from Taipei to Yilan by public transport, the quickest way is to take the Kamalan Bus at the Taipei Bus Station. I started my journey to Yilan once I landed Taiwan Taoyuan International Airport. There are buses that take you directly to Taipei Bus Station. The tickets can be purchased on the spot. The bus departs every 15mins and the journey takes 55mins time. The bus ticket is range from NT101 – NT120 per pax depending on which bus you are taking.
BUS 1819 by Kuo Kuang – NT120 per pax
BUS 1915/ 1916 by Kamalan – NT101 per pax
Since I was doing research on places to go in Yilan during my trip last year (2014) , I decided to compile the lists here for sharing. This is for my 2 Days trip activities in Yilan before I headed back to Taipei.
1.Jiaoxi Hot Spring Park

Hot springs can be considered its main draw for tourists here. Jiaoxi is a small town but it is well-known with hot spring experience to any tourists and locals. Get yourself soak into the hot spring experience and enjoy free foot hot spring when you are here.
Location: No. 16, Gongyuan Road, Jiaoxi Township, Yilan Country
Tel: +886 39872403
Opening Hours: 24 Hours Daily
How to get there: TRA Taipei Station or TRA Jiaoxi Station
2.Lanyang Museum

If you are in love with art gallery and photography, do drop by this place for a tour. I am in love with the architectural design of the museum. The architecture of the Lanyang Museum was inspired by natural elements found locally. Architect Kris Yao was the man behind this wonderful work.
Location: No. 750, Sec. 3 , Qingyun Road, Toucheng Township, Yilan Country
Tel: +886 39779700
Opening Hours:  Thurs til Tues: 9:00AM – 17:00PM / Closed on Every Wednesday & Public Holidays (Open on National Days)
Entrance Fees: Full Price: NTD$100 / Group: NTD$80 / Student: NTD$50 (Children 6-12 years of age with ID required)
Discount: NTD$30 for Student Groups (20 pax or more)
How to get there: Take a train to TRA Toucheng Station and get a cab there.




3. National Center for Traditional Arts

The center provides the platform for performing artists to showcase their creative works. It is like a small township where you get to enjoy music, enjoying opera performances and also witness the artistic creation. Also, you can get Yilan specialties such as the cookies from the center. There are many choices for you to choose from.
You can purchase the package here as well.
Location: No. 201, Sec. 2, Wubin Rd., Wujie Township, Yilan Country
Opening Hours: Weekdays : 9:00AM – 6:00PM Daily / Chinese New Year : 9:00AM-9:00PM Daily / Summer Vacation: 9:00AM-9:00PM Daily
How to get there: TRA Luodong Station__> Capital Bus (bound for National Center for Traditional Arts to national Center for Traditional Arts)
4. Dongshan River Water Park

It is a beautiful park best for family and friends bonding. I took a ferry ride from cultural centre and I glad I did that so that I can enjoy the scenery along the ride. You can rent bicycle & tricycle for the toddler for a short cycling along the park. Dongshan River Water Park is also the annual Dragon Boat races, international scholastic rowing championships and international toy festival.
Book Dongshan River Tour package here.
Location: No. 2, Sec. 2 Qinhe Rd., Wujie Township, Yilan Country
How to get there: TRA Luodong Stationà Capital Bus (Bound for National Center for Traditional Arts) to Dong Mountain (Dongshan) River Water Park
Alternatively, take a ferry ride from the National Center for Traditional Arts.




5.Jimi Square/ Jimmy Artwork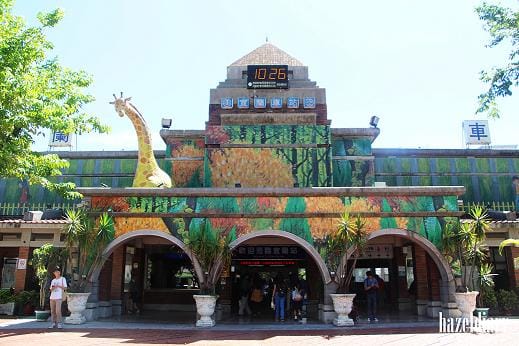 Jimi is one of the Taiwan illustration art character. The place is surrounded with Jimi stories display. Take a tour around the area for photo taking session. Figurines are displayed along the roads for photo taking and it's free of charge. But please note that there are overwhelming of tourists touring the area. You will find difficulties to get a proper photo with the artworks.
Location: Yilan Station
How to get there: Once you arrive Yilan Station, turn left once you are out from the front entrance. The park is just a walking distance down the road on both sides. You will see the big train hanging on the opposite side of the train entrance.
6. Luodong Night Market

Luodong's night market is located at the center of Luodong Township and around Zhongshan Park in Yilan Country. Just like our night market in Singapore and Malaysia, there are many stalls selling all kinds of foods and apparels. Try some of the street foods along your walk in the night market and enjoy the night life in Luodong. I love their Long Feng drumstick and green onion pancakes. Give it a try!
Address: Luodong Night Market,100 Gongyuan Road,Luodong Township, Yilan Country,Taiwan
How to get there: TRA Luodong Station. You can opt for bus but we walked instead. Upon exit the station, walk straight towards Gongjheng Road, turn left on Jhongjeng Road then turn right on Mincyuan Road. Continue to walk to Jhongshan Park and you arrive! This will take approximately 20minutes walk.
If you have other interesting places to visit in Yilan, drop me a message so I can compile the list for sharing.
Happy Travelling Guys!
Read about the Cafes in Taipei, Taiwan here.
And other Taiwan travelogue posts here.