I had an interesting trip over the weekend courtesy of LEGOLAND Nusajaya Malaysia. I was there for the LEGO Star Wars Days at LEGOLAND Malaysia Resort and explore the activities together with fellow bloggers. We took a cab and bus from Singapore to LEGOLAND Malaysia and surprisingly, it was quite easy and hassle free travelling via public transport. LEGO Star Wars Days is by far the largest collaboration on a regional level between The LEGO Group and LEGOLAND Malaysia Resort. LEGO Star Wars Days will take place the entire month of May and it is an annual event that will take place every year at LEGOLAND Malaysia Resort.
MASTER YOUR FORCE and be part of this during this month (MAY) to explore! So, what can you expect from this event?
1. SEE THE LARGEST REPLICA OF LEGO MILLENNIUM FALCON
The world's largest replica of the LEGO Millennium Falcon is built in LEGOLAND Malaysia Resort from 30 April – 2 May. It took the master builder duo (Dan Steininger and Chris Steininger) , 30 hours over 3 days to complete the model. The model is display in the park till end of this month.
2. BUILD AND TAKE HOME A MINI LEGO MILLENNIUM FALCON
Guests can redeem the mini LEGO Millennium Falcon during their visit here. All you need to do is to head down to the LEGO Academy and follow the instruction sheet on how to build the mini LEGO Millennium Falcon. Limited sets are available and this only takes place on SATURDAY and SUNDAYS of this month.
3. FREE ENTRY FOR KIDS WHO DRESSED UP IN A STAR WARS COSTUME

 Rejoice for the FREE entry for kids. Parents can save some money and yet bring the kids to explore LEGOLAND for FREE. The kids will need to dress up in a Star Wars costume to be entitled with this. I saw quite a number of kids dressing up over the weekend and they are all so adorable!
Note: This only applies to kids below the age of 12 years old
4. THE IMPERIAL MARCH FROM 501st LEGION SERIES

 So on 7th & 8th of this month, guests get to witness the Imperial March with more than 90 costumes from the 501st Legion in various characters from the series. The marching parade started at 11.00am and witness the march led by an army of Stormtroopers, Darth Vader and many more. It was amazing view to see a HUGE group of the characters marching LIVE just in front of my eyes.
5. BUILD YOUR DREAM LEGO STAR WARS STARSHIP
 There are few categories for the 'Build your Dream LEGO Star Wars Starship Contest. The participants must be a team consisting of parent and child will have to submit images of their creations made with only authentic LEGO bricks and base plates based on the requirements stated in LEGOLAND MALAYSIA RESORT's Facebook page. The competition was from 21 April til 8 May 2016. I was there for their prize giving ceremony and here are some of the snippets on the winners' and their works. For more information on the winner parties, check out here.
6. TAKE A PHOTO WITH STAR WARS CHARACTERS

 Take the opportunity to take selfie or photo with the Star Wars Characters as they will walk around the theme parks and mingle with the guests.I managed to get mine! But too bad it is only available on 7th and 8th though. You can always catch them next year as this is an annual event.
7. LEGO STAR WARS MINILAND DISPLAY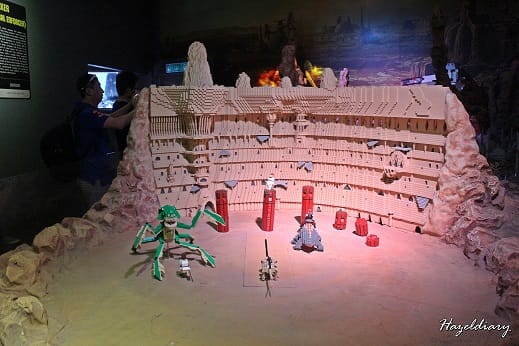 Also, check out the Star Wars Miniland and have a tour in the air-conditioned section. There are scenes from six episodes of the franchise and The Clone Wars. More information, you can check it out here.
8. EXCLUSIVE COMMEMORATIVE LEGO DUPLO BRICK FOR LEGO STAR WARS DAYS
The commemorative LEGO Duplo brick will be given to families that complete the Star Wars Activity Trail. There are limited sets of the commemorative bricks so it will all based on first come first served basis. So, make sure you take note on this!
So, have I sparked your interest Star Wars fans? With less than an hour journey from Singapore Checkpoint, you get to immerse into the Star Wars atmosphere at LEGOLAND Malaysia Resort. It was quite a worthy trip over the weekend with family and friends. If not, you can always travel to JB for cafehopping too.