Hua Hin is a seaside resort on the of gulf Thailand and it is approximately 3-4 hours drive from Bangkok. Upon arriving Bangkok, we have arranged the transport to pick us up to Hua Hin. We paid 8,000 Thai Baht (8 pax) for 2 days transport from Bangkok to Hua Hin (2-way) and around Hua Hin attractions. This inclusive of 2,000 Thai Baht transportation from Hua Hin to Bangkok if you are wondering how much is the charges.
HOW TO GET TRANSPORTATION FROM BANGKOK TO HUA HIN?
Apart from private drivers, you can opt from these platforms to compare the prices for private transportation in group.
1. Trazy.com offers 1 day private taxi tour from Bangkok
2. KLOOK also offers private transportation from Bangkok to Hua Hin
3. KKDAY that offers transportation from Don Mueang International Airport (DMK) or Suvarnabhumi Airport (BKK) Private One-Way Transfer to Hua Hin.
4. Bookaway also offers transportation from Bangkok.




We managed to cover quite a few iconic attractions in Hua Hin within a day. To be frank, each attraction place took us not more than 30minutes. This includes photo taking session. No wonder some say 1 day trip is enough in Hua Hin. But if you prefer a relaxing trip, I would suggest staying overnight to get sufficient rest before you travel back to Bangkok.




Here are the places we explore by the route of the Hua Hin map and towards Bangkok on the second day:
1. Hua Hin Night Market

Hua Hin also has night market to explore. There are at least 5 night markets, namely Chat Chai Night Market, Chatsila Night Market, Cicada Market, Grand Night Market and a smaller anonymous market that is tucked away in the small lanes opposite the Colonnade Mall. The best time to visit is after 7pm where most of the stalls are open for business. There are apparels, foods and souvenirs available within the markets to eat and shop. The night market stalls offers local Thailand street foods and also fresh seafoods to attract tourists. So, make sure you bargain for your comfortable pricing before you settle down for the meal.
Location: Petchkasem Road
Opening Hours: 6:00PM – 11:00PM
2. Khao Hin Lek Fai , Hua Hin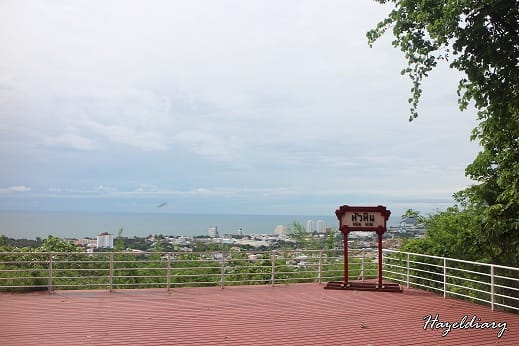 Khao Hin Lek Fai which is known as "Flinstone Hill'. The hill is located approximately 3kilometres west of the town. It has the best view point in Hua Hin. You can enjoy a panoramic view of Hua Hin here! This reminds me of Sai Wan Swimming Shed in Hong Kong. Same same but different.Read more here.
3. Hua Hin Railway Station


Hua Hin Railway Station is indeed Thailand's most beautiful train station. The rise of Hua Hin also began with the construction of this railway station in year 1968.
Hua Hin Railway Station is one of their famous sightseeing attractions with a long cultural heritage and Royal connections. It is built in the reign of King Rama VI and is one of Thailand's oldest railway stations.
Read more here.




4. Hua Hin Vineyard Hills


Usually Asian countries are not wine producing country due to the weather climate but after some research done in Thailand, Hua Hin is one of the several vineyards that are able to produce quality wines. Hua Hin Hills Vineyard covers 560 acres of mountain valley and it is truly a photogenic moment. It was lovely to sit by the open balcony above the vineyard looking at the scenery and enjoy the food and drinks.Read more here.
Hua Hin Hills Vineyard
204 Moo 9, Baan Khork Chang Patana Nong Plup, Hua Hin, Thailand
Tel: + 66 (0)81 701 0222
Email: info@huahinhillsvineyard.com
Website: http://www.huahinhillsvineyard.com/ (tour booking can be done here)
5. Plearnwan Hua Hin


Plearnwan Hua Hin in Thailand is the first eco-vintage village. It was built in late 2009 with the purpose to recapture the classic charm of old Hua Hin. Plearnwan is an open area built with wooden planks in between the modern building. You will spot a guy wearing an eye-catching mask to direct the cars that are coming in to Plearnwan. Read more here.
Plearnwan Eco Vintage Village
Located between Hua Hin soi 38 and 40, opposite Klai Klangwon Palace
Monday – Thursday from 10 am – 10 pm
Friday from 10 am – midnight
Saturdays from 9 am – noon
Sundays from 9 am – 10 pm
6. Palace of Love & Hope


Palace of Love & Hope is located on Bang Kra Beach between Cha-am and Hua Hin. Maruekhathaiyawan Palace is approximately 15km north from Hua Hin Town. The palace is one of the most beautiful royal palaces in Thailand.Read more here
Palace of Love & Hope
In Rama VI Camp,
Petchakasem Road,
Huei Sai Nua,
Cha-Am District,
Phetchaburi Province, Thailand.
OPENING HOURS:
Monday- Friday from 8.30 a.m. – 4.00 p.m.
Weekend and Public Holidays from 8.30 a.m. – 5.00 p.m.
7. Santorini Park


Santorini Park is another tourist attraction hot spot to be added into your Hua Hin list. The park opened in May 2012 is well-known with its architectural structure that resembles Santorini in Greece. For those who have not got a chance to go Greece like me, this is the place to go while trying to save money to go to the real Santorini.
Read more on my Santorini Park tour here.
Santorini Park
Address: 555 Moo 3
Khao Yai Sub-district
Cha-Am District
Petchburi 76120 Thailand
Opening Hours:
Monday – Friday 10:00AM – 8:00PM
Saturday 9:00AM – 9:00PM
Sunday 9:00Am – 8:00PM
Admission fee: 50 Baht per pax
8. Cicada Market


CICADA refers to Community of Identity Culture Arts & Dynamic Activities. This market is only open from Friday to Sunday and it is an open-market concept among lush garden settings. There are 4 zones in this market which includes Art A La Mode, Cicada Art Factory, Amphitheatre and Cicada Cuisine. So, if you are planning to include this in your itinerary, you will have to arrange your Hua Hin trip over the weekend. The market is located in Khao Takiab area which is approximately 10minutes drive from the centre town of Hua Hin.Read more here
Note: It's only open from Friday to Sunday.
9. Wat Huay Mongkol, Hua Hin


Wat Huay Mongkol (Wat Huay MongKhon) is the largest statue of Luang Phor Thuad in Thailand. The giant statue is about 12 meters high and 10 meters wide. It is set on a large mound wide with a stairway leading to it. The whole structure of this place is quite similar with Tian Tan Buddha in Hong Kong except that the stairways are not steep and longer in steps. The temple was established in year 1964 with humble beginnings as a lodging places for monks until it later became a monastery then temple with Luang Por Paso as the first abbot (1964-1991). Then Phrakru LP Phairoj governed the temple until now. Then, he came up with the idea to build a big Luang Por Thuad statue to carry forth and spread the Buddha teachings. And this has become one of the attractions for both the local thai and foreign tourists when they are in Hua Hin.
Read more here
10. Khao Luang Cave


Khao Luang limestone cave is located at Phetchaburi Province. The cave housed hundreds of Buddha statues and it is one of the Buddhas built under the command of King Rama V.The cave is an open-spaced on the roof where the skylight shines within the cave and gives a mystical view of the Buddhist statues.
Read more here
Until then, follow me on Facebook and Instagram for insta updates!