Grissini is a contemporary Italian Grill restaurant located at Grand Copthorne Waterfront. If you read my previous sneak preview post, the restaurant is one of the integrated dining concept of the newly revamp Grand Copthorne Waterfront Hotel. Helmed by Chef Antonio Cocozza from Naples, diners can experience the southern Italian dishes and also grilled succulent meats executed using Josper oven.
We started off Grissini- breadsticks served on the table with the creamy Japanese mayonnaise mixed with sun dried tomatoes dip. It was superb addictive.






Next, we move on to the starters, mains and desserts.
Cheese with Parma Ham Salad-S$26.00

Pan-fried Buffalo Mozzarella wrapped in 12 months aged parma ham, marjoram herb, baby rocket, orange oil and taggiasca olives.
Lobster and Mozzarella Cheese Salad- S$30.00

I enjoyed the combination of Italian Buffalo Mozzarella with fresh Boston Lobster Yellow Frisee. It was fresh and refreshing.
Octopus Salad- S$24.00

 Octopus Salad consists of cherry heirloom pomodorini, baby rocket, taggiasca olives, lemonzest, white balsamico dressing and enhanced with Sicilian extra virgin olive oil.
Mushroom Fagottelli – S$24.00

 The pasta was homemade stuffed with fresh ricotta, thyme leaves and provolone and served with porcini mushroom ragout. It was quite a filling main for one portion.
Boston Lobster Linguine- S$36.00

 One of my favourite pasta of the night. The linguine pasta served with fresh Boston Lobster, Datterino tomatoes, Frascati white wine and Sicilian extra virgin olive oil. The combination works well and the lobster meat was tender, juicy and sweet.




White Pizza- S$20.00 (S) | S$24.00 (M)

The pizza comes in two sizes – small and medium. The pizza is also made fresh upon order if you are wondering. Black truffle paste, mozzarella, aged bacon, cream and fresh basil are all the ingredients on top of the flat crust pizza. It is best to pair it with a glass of wine. Splendid moment for a meal.
Salami Pizza- S$18.00 (S) | S$22.00 (M)

Salami pizza consists of Italian truffle salami, San Marzano tomato salsa, mozzarella and fresh basil. I find it a bit too salty for my taste bud but if you are a salami person, this is good for you.
Grilled Spring Chicken- S$38.00

Grilled spring chicken prepared using Josper Grill along with roasted potatoes and green asparagus. Juicy, tender and well done I would say.
Wagyu Ribeye- S$78.00

My favourite wagyu perfectly executed served with parmesan cheese and tomatoes.
Grilled Octopus- S$36.00

Grilled plumpy octopus by Josper Grill with roasted potatoes, taggiasca olives, datterino and baby rocket.
Panna Cotta- S$14.00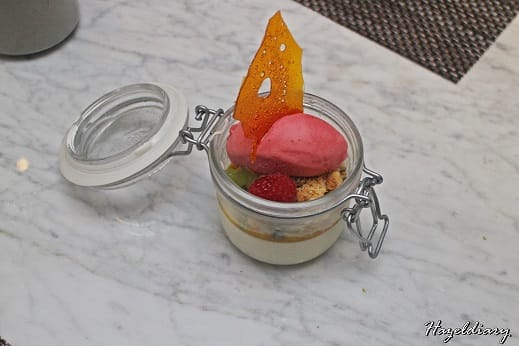 Love the presentation of the dessert. Vanilla flavour, mango coulis, exotic fruits and raspberry sorbet. Smooth panna cotta with sweet raspberry taste.




Limoncello Tiramisu- S$14.00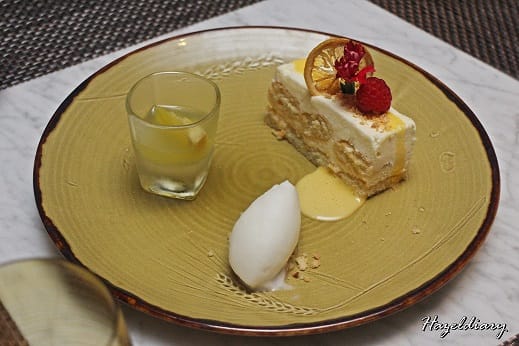 My first taste of Amalfi Coast's lemon liquer with Savoiardi biscuits, mascarpone and Zabaione Cream. The tiramisu was light and fluffly with the lemon zest in the cream. Nice dessert to cleanse the palate after a heavy meal.
Chocolate Tart- S$14.00

For chocolate lovers, you can have this for dessert. Warm Hazelnut chocolate tart served with pistachio ice-cream. If you cut the tart into half, you will notice bits of the chocolate lava flows out but ours didn't flow though. Perhaps we took quite sometime to cut it.
Private Collection of Gelato – S$8.00 (Per scoop)

Never leave Grissini without trying their gelato specials. There are quite a number of interesting flavours include Parmesan, Black Truffle Oil & Olives, Balsamic Vinegar, Basil, Cherry Tomato, Chocolate, Pistachio, Vanilla and Sorbet (Lemon, Raspberry).
Grissini offers quite a range of Italian delicacies where you can get your pasta, grilled meats and pizza all at one stop. The restaurant also serves acquired savoury gelato flavours that you can't find else where too. It was a pleasure dining here in Grissini and listening stories shared by Chef Antonio Cocozza.

Grissini
Grand Copthorne Waterfront Hotel
Address: G/F Grand Copthorne Waterfront Hotel
392, Havelock Road
Singapore 169663
Tel: +65 6233 1100
Opening Hours: Lunch 12:00PM – 2:30PM | Dinner 6:30PM – 11:00PM
Website: https://www.millenniumhotels.com/en/singapore/grand-copthorne-waterfront/grissini/