We are celebrating Chinese New Year in few weeks time. Yan restaurant located at National Gallery Singapore celebrates the year of the Rooster with 8 signature set menus perfect for groups of all sizes. These exciting CNY menus are created by Master Chef Chan Kung Lai and presented in modern plates for this prosperous festive feast.

The eight set menus are ranging from S$118.00++ to S$268.00++ per person. All the menus start with Yan's rendition of the traditional Lo Hei. The menus are available from 9th January to 11th February 2017.
Yan's Signature Yellowtail Fish Yu Sheng with Golden Flake in Shun De Style
(金箔顺德黄鱼尾捞起)


Beautifully plated art piece with a base of crispy fried vermicelli and topped with slices of ginger, spring onion, crunchy capsicums, finely grounded peanut and finished with fresh slices of yellowtail. The Yu Sheng is drizzled with Yan's homemade soya sauce and peanut oil which symbolizes an auspicious gesture that Chinese believe brings in wealth and prosperity. And customer has the option to add on cubes of crispy lobster fillet for an additional price. This is one of the best Yu Sheng I had so far for this year with the savoury taste in it.




Duet Style Roasted & Szechuan 'Bon Bon' Chicken
(当红烧鸡配棒棒鸡丝)

Two new dishes for this Chinese New Year that feature a full spring chicken served in 2 ways; half of it is shredded and coated with traditional homemade Si Chuan Ma La spice and the other half is roasted. Surprisingly the Si Chuan Ma La spice level is in mild flavour. Those who do not take spicy like me will have no issue savouring it.
Braised 2 Head Abalone with Wild Mushroom
(蚝皇二头鲍鱼拌野菌)

Wok-fried Mee Sua with Shrimps, Honey-Glazed Pork & Capsicum
(家乡炒面线 )

Signature Roasted Whole Suckling Pig
(香茅翻焼猪背肉)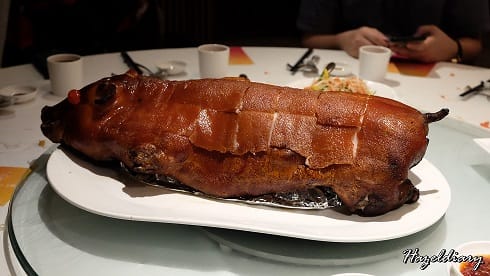 The signature roasted suckling pig is also available in ala-carte at S$124.00++. It is advisable to order a day in advance. Just look at the crispy skin in the photo. We had the second course from the suckling pig after the skin which is oven-baked fillet with lemongrass.
Chilled Mango Cream topped with Vanilla Ice Cream &Oats served in Coconut
(雪里飘香配煎年糕)

Wrapping off the meal with refreshing dessert served in coconut and of course the pan-fried sweet rice cakes.


For the full CNY Menus, please visit their official website for more details.
[This is an invited tasting.]

Yan Cantonese Cuisine
Address: 1 St. Andrew's Road,
National Gallery Singapore
#05-02
Singapore 178957
Tel: +65 6384 5585
Facebook: https://www.facebook.com/YanCantoneseCuisine/
Website: http://www.yan.com.sg/