Crystal Jade Group celebrate this Lunar New Year with new exquisite dishes for dine-in at their restaurants as well as takeaway set menu for five packed in a beautiful customised gift box made for gifting or personal enjoyment. The Chinese New year dining at Crystal Jade restaurants will commence from 25 January 2021 (selected outlets will closed on 12 February 2021). Reservations can be made online via https://inline.app/booking/cj from 1 December 2020.Festive takeaway goodies can be pre-ordered online at estore.crystaljade.com and outlets from 7 December 2020 to 28 February 2021, and available for collection at outlets from 25 January 2021.
Here are some of the highlight dishes from the Crystal Jade Restaurants that we tried.
Season of Wealth Golden Scallop Yusheng 金牛四季五谷庆
S$168.00++ (L) | S$108.00++ (S)
Outlet: All Fine- Dining Restaurants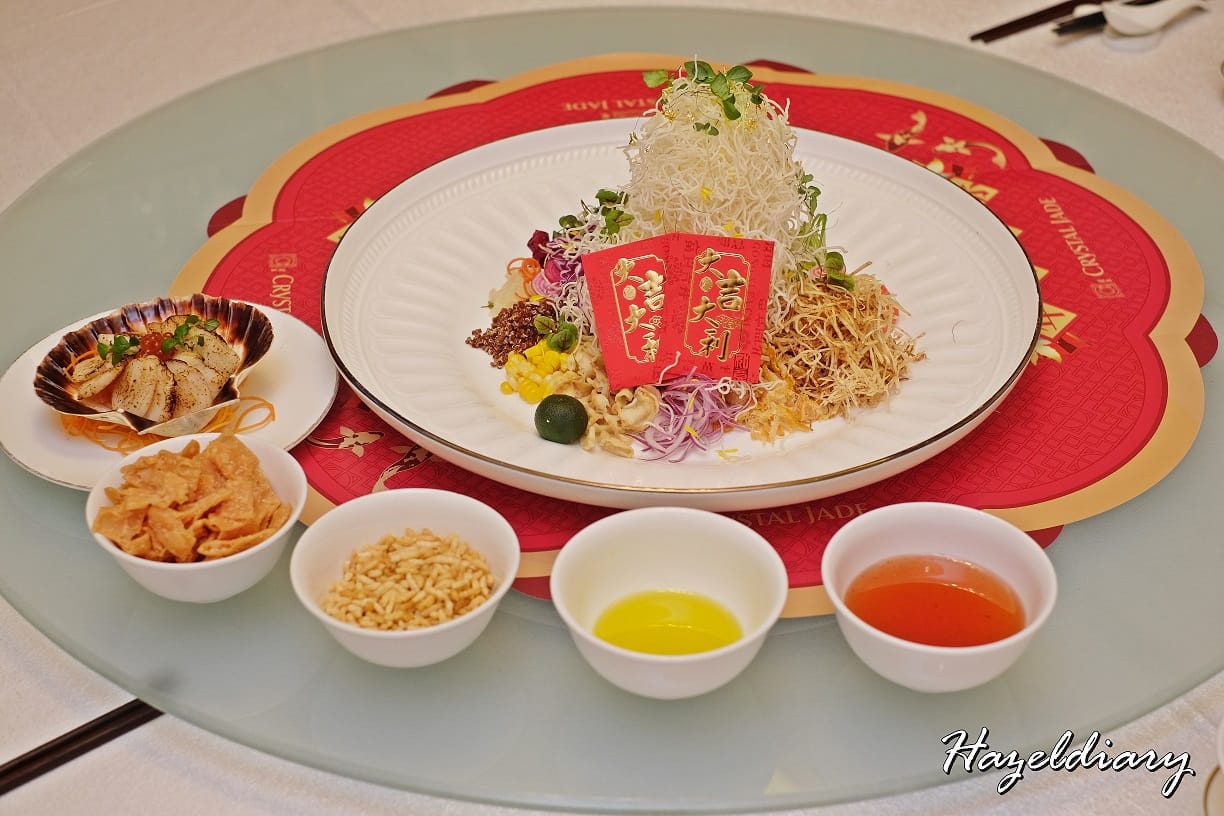 I always look forward to Crystal Jade Yu Sheng and this time round, Group Executive Chef Foo did it again! He curated another healthy and delicious 'yusheng' with ingredients like red dragonfruit and watermelon cubes, pomelo, burdock, quinoa, cherry tomatoes, pickled cucumbers, crispy rice, walnuts, deep fried yam strips and Hsin Chu bee hoon as the final flourish. Ikura or salmon roe and sweet scallop slices were briefly torched crown and paired with an olive oil-based dressing with flower blossom syrup and plum sauce. Loving the pairing and the crunchy bites and texture as a whole.
Braised Pumpkin Thick Soup with Steamed Egg White, Prawn and Crab Meat
S$22.00++ per pax
Outlet: Crystal Jade Dining IN


Instead of the usual pumpkin soup, this bowl of goodness is spiced up with steamed egg white, prawn and crab meat for flavoursome taste.
Crispy Charcoal-Grilled Superior Sea Cucumber with Oyster Sauce
S$28.00++per pax
Outlet: Crystal Jade Palace


For those who are not a fan of sea cucumber, perhaps you can consider to give this a try. This piece of delicacy is first braised then grilled briefly over bincotan which imparts an alluring smoky accent. Interesting texture and goes well with the oyster sauce. Definitely not your usual way of having sea cucumber. This is impressive I would say.
Roasted Irish Duck with Crispy Rice in Chef's Special Sauce
S$52.00++ (Half) | S$90.00++ (Whole)
Outlet: Crystal Jade Golden Palace, Dining In & Pavilion


Succulent pieces of roasted Irish duck adorned with a luscious thick sauce topped with fragrant puffed rice-lettuce cups offer the perfect foil to the rich and savoury meat. I just couldn't stop at one piece. It is bursting with flavours and texture when you put all into your mouth.
Braised Fish Tofu with Shiitake Mushroom and Black Moss in Oyster Sauce
S$26.80++ for regular
Outlet: Crystal Jade Jiang Nan, Kitchen & La Mian Xiao Long Bao


Nicely done soft braised fish tofu with shiitake mushroom and black moss in oyster sauce.
Braised Vermicelli with Scallop and Egg White Topped with Crispy Conpoy
S$36.00++ per portion
Outlet: Crystal Jade Palace


This dish might look pale in presentation but do not get deceived by its look. It is rich in seafood stock, fresh scallops and crispy conpoy. Some might like to add some vinegar to enhance the flavours of this dish.




Fried Conpoy & Taro Glutinous Rice Wrapped in Lotus Leaf
S$26.00 | Festive Takeaway selection


Available new for festive takeaway selection for this year that you can consider for this new year. It is Chef Foo's rendition with ingredients like tender chicken pieces, conpoy,and cubes of taro.
Chilled Double-boiled Snow Pear with Snow Lotus, Osmanthus and Honey Lemon
S$13.80++per pax
Outlet: Crystal Jade Palace


Light and refreshing dessert presented in such a beautiful way.
Molten Taro Moo-moo Bun
S$3.80++ per bun with minimum 3 pcs
Outlet: Special Dessert from Crystal Jade Palace


Cow-shaped bun with orh nee filling in it. It is lightly pan-fried in the bottom for the extra crispy texture. Cute and too pretty to be eaten though.
FESTIVE TAKEAWAY
Online order from 7 December 2020 and collection from 25 January 2021 at select outlets. Home delivery option is available.
Takeaway orders can be made online at estore.crystaljade.com and customers can place their orders in person at Crystal Jade restaurants and bakery outlets from 7 December 2020 to 28 February 2021. Collections of orders can be made from 25 January 2021 at select Crystal Jade outlets.
Note: A delivery fee of S$20.00 applies for home delivery between 25 January -07 February 2021 and 15-26 February 2021, S$40.00 applies between 8 and 14 February 2021.
For more information, please visit their official website – www.crystaljade.com