Tegenungan waterfall is one of the attraction spot to visit in Ubud, Bali, Indonesia. It is approximately an hour drive from Seminyak and we decided to do a day trip to explore the waterfall. I was here for my friend's wedding over the weekend and we have one day to spare to explore Bali.

About Tegenungan Waterfall
Tegenungan Waterfall is a waterfall in Bali, Indonesia. It is located at the Tegenungan Kemenuh village, in Gianyar, North from the capital Denpasar and close to the artist village of Ubud. The waterfall is isolated but has become a popular tourist attraction. It is one of the few waterfalls in Bali that is not situated in highlands or mountainous territory. The amount and clarity of the water at the site depends on rainfall but it contains green surroundings with fresh water that can be swum in. The waterfall includes varying highs that can be climbed after the descent down stairs to reach it. This attraction also features a viewing point to the jungle and waterfall at the main entrance
*Info from Wikipedia*
HOW TO GET TO TEGENUNGAN WATERFALL
We hired a private driver for 10hours per day to drive us from Seminyak to Ubud. Alternatively, you can opt for the following private day tour for these activities:
1 – Bali Ubud Tegenungan Waterfall, Butterfly Park, Monkey Forest, & Petulu Village Private Day Tour 
2 – Hidden Canyon, Tegenungan Waterfall, and Goa Gajah Full Day Tour
ENTRANCE TICKET FEE
There is an entrance fee of 12,000 IDR per pax ~S$1.14 required to enter the waterfall. You will see a ticket booth and parking space first before you can enter to the attraction spot.




THINGS TO SEE & DO
Before you make your way down the stairs to see the beautiful Tegenungan waterfall, there are few iconic instagram-worthy photo taking spots. We took a few before we headed down to the waterfall.
There is toilet near the waterfall to change for swimming attire. And yes… you can swim here. However, do not expect clear water here though. Safety precautions are taken in consideration as you can see there are lifeguards near the waterfall to monitor the surroundings.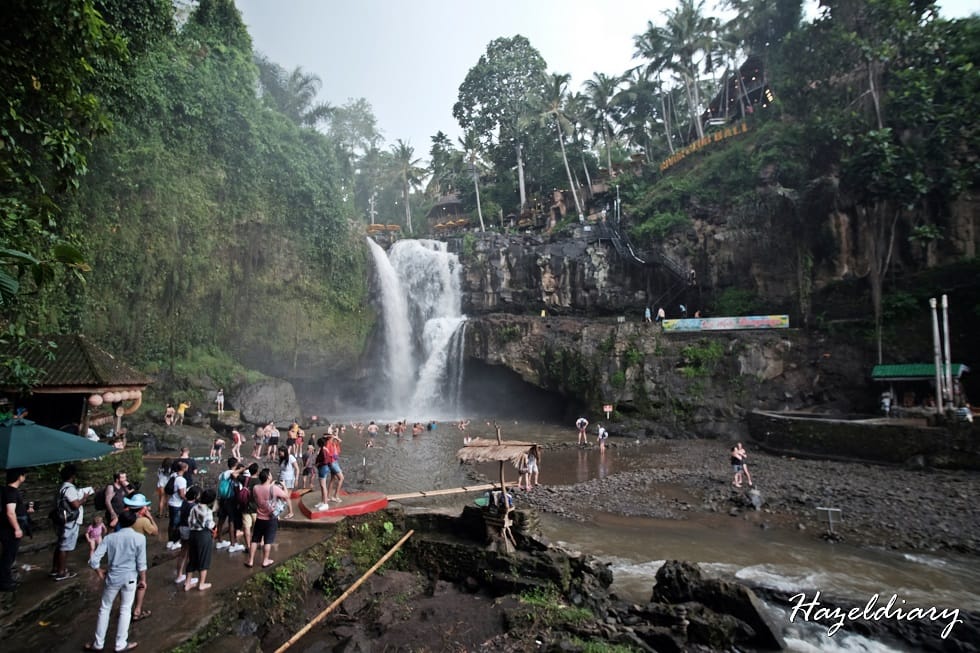 It is nice place to chill and swim while enjoying the nature of the surroundings. I personally feel the place is less touristy as compared those bali swings places. It is quite secluded and you can see locals having fun at the waterfall too. It is nice to drop by for couple hours to check out this place before you head for other attraction places or even cafehopping around Ubud.

Tegenungan Waterfall
Address:Jl. Ir. Sutami, Kemenuh, Kec. Sukawati,
Kabupaten Gianyar, Bali 80581, Indonesia
Opening Hours: Daily 6:30AM – 6:30PM
Follow me on Facebook and Instagram for insta updates